Swimmer working to raise money for foundation
Posted:
Updated: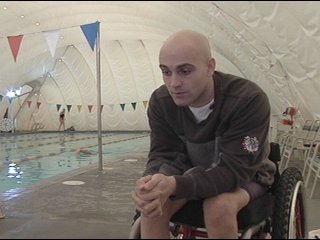 RICHLAND, Wash. -- Six days a week Nate Higgins spends over an hour swimming. surrounded by other swimmers, Higgins doesn't look different, until he gets out of the water.
"All you can do is control you, and you got to do the best you can to the best of your abilities," says Higgins, a Richland Native who's preparing for a swim meet for the paralympic try outs in Minnesota next week.
For Higgins, who is paralyzed from the chest down after falling off a roof, that means not letting himself be defined by his condition.
"Really, I'm a byproduct of people that have been willing to help me, people like Micah, people like my parents, people like my coaches, my professors. People who believe in me, when quite frankly, I didn't believe in myself," explains the 24 year old swimmer.
Friends like Micah Piippl, who have known Higgins for years are inspired by what he has overcome, "Nate's one of those guys that like you meet and he has this charisma and fiery passion about him, that kind of sucks you in and next you know, whatever you're doing or included in with Nate, you're just, go time."
For Higgins, many things are important, but nothing as much as raising money for the "Swim with Mike" foundation, "Swim with Mike, I'm taking the skills I'm already blessed with, blessed to have other people teach me and hopefully apply those to raise as much money as I can for athletes with disabilities."
Nate will travel to California to swim up to two miles in hopes of raising $10,000, the same amount he received in a scholarship, from the organization. Seeing Nate, swimming may look easy, but it took a long time to get here.
"Quite frankly it took me 4 months, I started swimming in January of '07 and it took about 4 month's for me to just be able to swim across the pool, butterfly or backstroke," says Higgins.
Higgins message to anyone facing challenges is,"staying disciplined, having a game plan, and sticking with it. And that's not just swimming, that's life."
People who want to donate to the organization are encouraged to go its website, swimwithmike.org, and click on the contribute button.