YVCC students say financial aid comes too little too late
Posted:
Updated: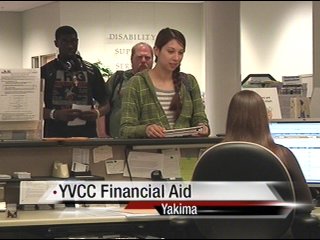 YAKIMA, Wash- At Yakima Valley Community College, about two thirds of the student body apply for financial aid. A number of students who are angry with the financial process at YVCC contacted KNDO. After speaking with both students and the school's financial aid staff it looks like they are getting issues resolved and clarifying financial policy.
It's the first week of the new quarter at YVCC, and as usual one of the most popular places on campus is the financial aid desk. Students typically don't get their financial aid until the last minute, the first day of classes. But for the past seven months students have complained of not even getting it then.
"There have been students who have been forced to dropout of their classes and hold off coming to school, because they haven't had the funding to do that", says Naomi Robinson, student body president.
Robinson has heard first-hand from students claiming that financial aid has come, too late, too little, or not at all.
She showed us letters from students saying that the lack of financial aid has made it difficult for students to enroll in classes, buy books, and in some cases pay rent. Much of their frustration is with the school's financial aid program.
"There hasn't been consistent communication. So, like they would go and check up on their financial aid status and one person would tell them one thing and they would go back two weeks later and they would be told something completely different", says Robinson.
YVCC dean of financial services says financial aid applications are up 27% this year. But despite what students claim, they deny that there have been any unusual delays in paying out financial aid except in the case of late applications.
"If they apply after April 15th they just can't count on having the financial aid ready for them in time for fall quarter", says Blackaby.
The financial aid office cut their public hours last quarter so they could spend more time processing applications.
But going forward they say the only way eligible students can be sure of getting their money, is to turn in all paperwork before the deadline.