White Swan fire victims still far from returning home
Posted:
Updated: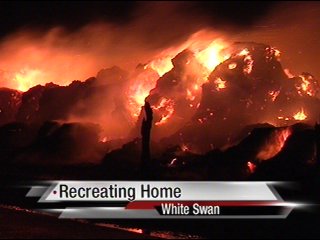 WAPATO, Wash. – One family displaced by the fire in White Swan earlier this year is still far from returning to normal but recently came closer to feeling at home when the left local hotels and moved back into a house for the first time.
"It's just unreal, you go through that part of the street and there's nothing there no more," said Kevin Heath on visiting his neighborhood in White Swan. "Where there was a community of people there's nothing now."
Almost two months after that fire destroyed 18 houses, Heath and Louetta Lucei are still not sure when they'll be able to rebuild their home.
"We're not sure where we're going," said Lucei. "It's a place to call home for now but it's an unfamiliar place."
A friend in the Yakama Nation helped them secure the home in Wapato through the end of May but then they'll be on their own again.
"We're just dependent on the tribe, you know that's how you grow up on the res'," said Heath. "You just grow up depending on what they can do for you."
The couple was actually away from their home on the day of the fire. They were in Yakima when they got a call to come back to White Swan. As soon as they saw the smoke, they started recording video and taking photos on their cell phones. They kept capturing the images even after they were stopped by authorities just blocks from their home.
"We keep 'em on our phones to show us the hardship we went through," said Lucei.
Heath and Lucei have three children and they often ask their parents when they will get their house back and don't understand how hard it will be to rebuild.
"We do everything for our kids," she said. "That's where we try to give them everything that we didn't have when were growing up."
The couple believes the Yakama Nation will help them return to white swan. But they don't know when. The request for federal aid by the governor last week could be a first step for this family to come home.