Hospital using experienced volunteers
Posted:
Updated: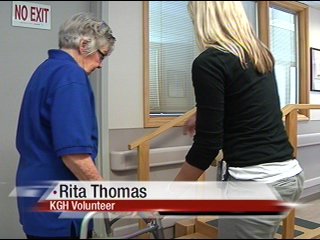 KENNEWICK, Wash.—Just about every medical center offers community service opportunities, but one local hospital is taking a new approach and getting experienced volunteers involved. KNDU discovered the Kennewick General Hospital program is making a big difference in the lives of their patients in fact they are healing faster than ever.
The volunteers are people who have gone through joint replacement. They then assist patients going through the same surgery.
"Sometimes they're amazed that we have had double knee surgery and still walking around quickly and easily," says Rita Thomas, KGH Volunteer.
Thomas says the volunteers help the patients prepare for surgery and show them they too will heal. This inspiration actually speeds up the healing process.
"I see patients motorcycle riding. I see patients in their garden. I see them kneeling on their knees," says Nicole Schrom, Joint Care Coordinator.
"They have operations Monday, shoot by Wednesday some of them are going home," says Thomas.
"I mean they could not do that before," says Schrom.
Since the program started about a year ago their joint replacement patients have doubled, and they say it is because of their volunteers.
KGH is always looking for more volunteers. If you would like to help you must have had joint replacement surgery at KGH. Kadlec Regional Medical Center and Lourdes Medical Center also have volunteer opportunities.