Police investigating vandalized cars
Posted:
Updated: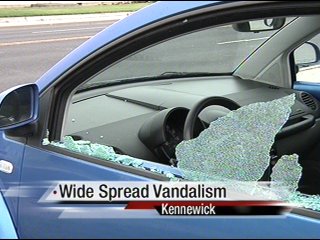 KENNEWICK, Wash. -- A broken car window is a sight no one wants to see. But as many people throughout Kennewick started their day, this is what greeted them.
"It's just devastating, I know we can't replace it right now, so it's just going to have to stay broken for a while," says Michelle Woods.
The vandalism came as a surprise to Woods, who found the driver side window of her Volkswagen Bug shattered across her front step and inside the car.
"One of the teens from our church texted me and asked what happened to the window. They had drove by the house and saw it and so it happened while I was right inside the house, and I didn't hear it," explained Woods.
Kennewick police started to receive calls of suspicious behavior late Sunday night. When police began looking into the calls, they discovered over 40 different incidents of vandalism from a pellet gun at Creekstone, Canyon lakes, and a number of other places, and more reports are coming in.
"This is the type of crime that more than likely involved some juveniles and more than likely people would be bragging about," explains Kennewick Police Crime Specialist Mike Blatman.
For victims of the vandalism, this is the last thing they need.
"So frustrating, it's only been a week or so our van at the church, the window was broken up there too and that's just a half mile down the road, so obviously this is an ongoing problem," says Woods.
"It's really just a nuisance. It's not, the damage could have been worse, it's kind of frustrating to know that's going on while you're a sleep," says Brendan Dodge, another Kennewick resident who found his car's back windshield busted out.
Police are still investigating the shootings and are still getting more reports from neighbors about the vandalism. Police are not sure who is responsible, but is asking if you saw anything suspicious, to call crimestoppers at 586-TIPS.