Local business owners put up surveillance cameras to fight crime
Posted:
Updated: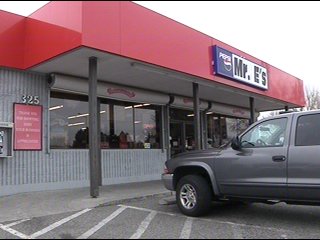 KENNEWICK, Wash. -- The owners of Mr. E's and Nob Hill Market, Huong Le and her husband have been running two convenience store gas stations in Kennewick for 20 years.

Come January, they upgraded and proudly displayed their new security system at the Mr. E's location on Union Street and 4th Avenue.
"We've been robbed almost every year. last two years have not been very good years. 5 years ago it was very good, we didn't have any robberies. This year 3 times here at nob hill market and once over there, at Mr. E's," says Le.
Shoplifters are the biggest concern at Nob Hill Market. Le says the very visible nine new cameras serve many purposes.
One is that they make the staff and customers feel safe, and two, they may keep the wrong people out of their stores.
"If somebody want to rob us they may stop or they may go somewhere else because we already have a system to try to have our safety first. we don't want to get killed," says Le.
Sgt. Mike Blatman with Kennewick Police Crime Prevention unit says cameras are the first step but setting them up right is equally important. "They need to be at the right place and get the cash register from a good angle," says Blatman. KPD Crime Prevention Unit offers a service where they go out to businesses and do a security walk through, and make recommendations a business could take to improve safety. They also offer advice on cameras. For more information, contact them at (509) 582-1351.