Budget cuts to tourism should not affect tourism in the Tri-Cities
Posted:
Updated: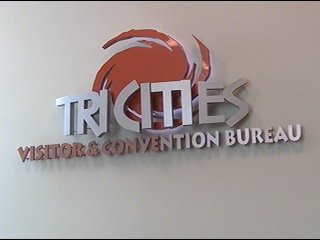 KENNEWICK, Wash. -- The Tri-Cities Visitor's and Convention Bureau operates on an annual $1.5 million budget to boost tourism in our area.
President and CEO of the Bureau, Kris Watkins says, the efforts and investment seems to be working. "We aim for a multi-media approach. From Facebook and Twitter, to direct sales calls. There is not one specific way that we're marketing the Tri-Cities. We're using television, the Internet. We use collateral material like our Tri-City Visitor Guide. We attend trade shows," says Watkins.
TCVB is also aiming to attract visitors from everywhere, including our own state. "Our target market is the Puget Sound region, the Northwest, and to some degree national advertising as well," says Watkins.
While tourism has increased in the Tri-Cities this year, based on being up 4.2% in occupied guest rooms in hotels, tourism state wide may be in trouble. Governor Gregoire's proposed budget for the biennium calls for the elimination of funding for the Washington State Tourism Office. As the 2011 legislative session draws to a close, all indications show that Gregoire's proposal to eliminate $1.8 million from the general fund will receive approval from the House and Senate.
The tourism industry creates more than 143 thousand jobs and brings in more than $15 billion dollars a year to Washington.
Watkins says TCVCB should not be affected directly by these cuts, but it's up to businesses to join together. The Washington Tourism Alliance is a new non-profit organization formed to combat the issue. The group of 500 plus members met in Seattle to work together.. "I feel very confident that the private sector, will step forward and be able to continue to market our state," says Watkins.
Here, the TCVCB generates money in three ways.
"We have close to 700 dues paying members in the Tri-Cities region. We get hotel motel tax. Those taxes are generated by visitors coming in and staying at our hotels, as well as a tourism promotion area assessment fee, where the hotels have voted in and are assessed a $1.50 for every occupied guest room," says Watkins.
For more information contact info@visitTri-Cities.com or call 509-735-8486