A government shake-up may be headed for Yakima County
Posted:
Updated: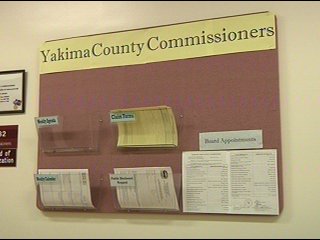 YAKIMA, Wash- A major shake-up may be on the way for Yakima County's government. Volunteers with Central Washington Progress are looking to get more local representation for county government. The group has been the driving force behind the city of Yakima's re-districting proposal up for vote in August. Now they're taking on an even bigger project that would get rid of the current system, and rebuild the county government from scratch.
Once again volunteers with Central Washington Progress are hitting the streets asking Yakima County voters to sign a petition to put home rule charter on the November ballot. Their goal is to take some of Olympia's lawmaking powers and put them in the hands of the county.
"If we wanted to have bike paths in the city we can legislate at the city level you can also legislate at the state level, but without home rule charter you cannot legislate at the county level", says Mary Baechler, a community organizer with Central Washington Progress.
A switch to home rule charter means that voters would elect 15 representatives called "freeholders" who would essentially hold a constitutional convention and write a charter for Yakima County outlining how the new government would work. Voters would then have to approve the charter. Six Washington Counties have already made the switch from the Commissioner form to Home Rule charter: Clallam, King, Pierce, San Juan, Snohomish, and Whatcom.
"If the community wants to have a change, they certainly have that right to do so", says Yakima County Commissioner Kevin Bouchey.
Theoretically the new charter could keep the structure Yakima currently has with three county commissioners or have a completely different governing system. Bouchey says they type of government isn't as important as who's running it.
"As long as you have adequate representation in the type of government it really comes down to those people that you elect in those positions", Bouchey reasons.
The volunteers hope that remaking the charter will increase that local representation.
"It's a smaller group, you don't have to win the whole county at large to run for office, so we have a chance to have more of our neighborhood leaders run for office", says Baechler
The volunteers need about 6,400 valid signatures to get the home rule charter rule on the ballot.