College prepares for proposed state budget cuts
Posted:
Updated: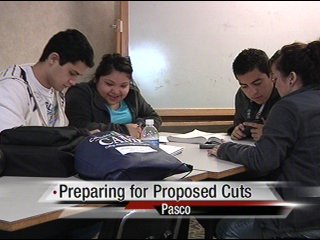 PASCO, Wash. -- Columbia Basin College see's a storm coming their way and they're getting ready. The state house of representative released a proposed budget that would cut nearly $500 million dollars from higher education and the school doesn't expect a final budget to look any better.
"Well, even though it's proposed, it's very close to the governor's proposal which means that the senate's proposal will probably also be fairly close. So, this is really what's going to happen in higher education in the state of Washington," explains, Rich Cummings, President of Columbia Basin College.
Under the proposal, the school is set to implement an 22% tuition increase over two years. As an example, tuition goes from $1,173 dollars to $1,302 dollars in the fall quarter. A $129 dollar increase.
Plus, a 30% cut in state funds over the same 2 year period. "There will be longer lines in financial aid, there will be long lines in admission and registration and counseling and advising and these kinds of areas of the college that's where we'll be making some reductions," says Cummins.
Cuts in services will affect many of C.B.C's nearly 8 thousand students. People like Shawn Fon who describes his financial aid with one word, "crucial. Without it, I wouldn't be able to be here probably. I could work, but only so much. I'm a full time student."
Despite the cuts, some students remain optimistic.
"Even with an 11 percent tuition increase, going to a community college for me is still quite a bit more affordable than a 4 year institution," says student Michelle Yeager.
President Cummins would not give details on what specific programs will be reduced or even eliminated. But what he did stress was students seeking financial aid should get their application in by May to avoid a delay in funding.