Veteran headstones need fixing, but it's not funded
Posted:
Updated: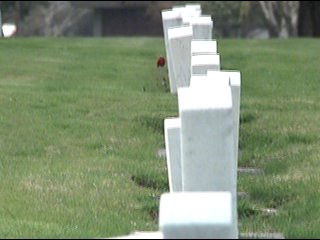 WALLA WALLA, Wash. -- Just a week shy of his 79th birthday, Vietnam War Veteran Everett Kimball and his wife Betty, drive from Pendeton to visit and pay respects to other vets buried at Mountain View Cemetery in Walla Walla.
But the Kimballs are disheartened at the condition of the headstones belonging to the vets. "They're sinking, they're falling down. Who takes care of this? Who is responsible?" asks Betty Kimball. Some of the stones date back to 1918, and WWI vets.
"It just brings tears to my eyes, seeing something so disrespectful. Anybody that's been in the military knows to leave a site like this, it would be a disgrace to the United States," says Everett Kimball.
The Kimballs asked the staff at cemetery and were told to contact the marker repair, who then told them it would be $240 to fix his grandfather's stone.
"The policy for Mount View Cemetery has always been, the family is responsible for maintaining the headstone for any of their family members," says Joan Schille, the Park. Maintenance Supervisor, for Walla Walla's Parks and Recreation Division.
The cemetery is not a national Veteran Cemetery,it just has an area designated to vets, so headstone repairs are not covered by Federal money.
Mountain View belongs to the city of Walla Walla, and they don't have the funds to do the repair on vet's stones.
"It would be nice if there were some volunteers, or a veteran's group who wanted to help. That would be what it would take. It's not something our cemetery or staff has the ability to do financially," says Schille.
The Federal Government, The Veteran Affair's Division, does cover burials and headstones for veterans if it is at one of the 31 national cemeteries. The government pays for the opening and closing of the grave, perpetual care, a Government headstone or marker, a burial flag, and a Presidential Memorial Certificate at no cost to the family.
But Mountain View is not a National Veteran Cemetery, so benefits only include a Government headstone or marker , a burial flag, and a Presidential Memorial Certificate, at no cost to the family. Care is not included. There are also no benefits available to spouses and dependents buried in a private cemetery.
Cremated remains are buried or inurned in national cemeteries in the same manner and with the same honors as casketed remains

For More information on the VA, burial benefits, click here