Pre barrel tasting acts as a warm up for wineries
Posted:
Updated: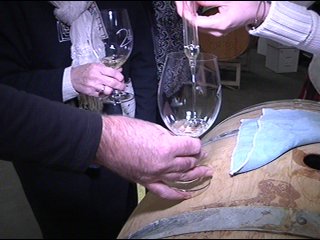 ZILLAH, Wash. – A week before the biggest wine event of the year for local tasting rooms, Two Mountain Winery had a preview event as the industry prepares for Spring Barrel Tasting.
"It's a lot of fun," said Matthew Rawn, Winemaker at Two Mountain. "This weekend's always great because you don't really get the large, large crowds"
Pre-barrel tasting allowed customers to enjoy the same out-of-the-barrel taste but in a more relaxed environment. Both weekend events are showing up early on the calendar this year because Easter falls later than normal in 2011.
Rawn says the smaller turnout acts as a rehearsal and helps them to prepare for the following weekend.
"It's not the crowd madness that you can sometimes get at big events," he said.
The Yakima Valley Visitors & Convention Bureau advise proper planning for the big weekend to improve your experience. Wineries also agree that making calls and going online to route your day will make the weekend more enjoyable. Consider starting in the middle of wine country instead of at one end to avoid larger rushes of wine tasters. Limiting your day to five or six wineries will also help you to enjoy the event, experts add.
It's also B.Y.O.G. during Spring Barrel Tasting, bring your own glass. You will either need to carry one or buy a glass from wineries. They will not supply glasses simply for tasting, like they do at other events or on regular weekends.