Child Abuse Awareness Month
Posted:
Updated: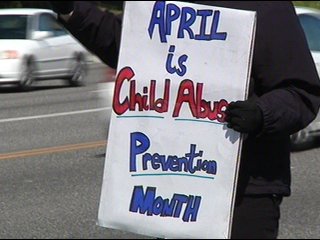 KENNEWICK, Wash.—Everyday children are abused in our community. Advocates for children say it's a growing problem, and now they refuse to be silent. KNDU looked into the local need for awareness and what's being done.
Last year 570 cases of child abuse in the Tri-Cities were investigated, and that doesn't include the hundreds that go unreported. The Benton and Franklin Counties Council for Children are trying to bring awareness to this issue for Child Abuse Awareness Month.
Advocates stood on sideways Monday with signs for "Blue Monday's" trying to get the community's attention about domestic violence, physical and sexual child abuse. Their message is that this is a community-wide problem, and we can all help change it.
"We need to get the word out that every member of our community can help and help work with prevention efforts," says Renee Blackman, Advocate.
Blackman says you can help just by talking to a child about abuse. The group will be holding the signs at intersections every Monday through April. They welcome any supporters.
Locations:
395 and Kennewick Avenue
Edison Street and Canal Drive
Columbia Center Boulevard and Grandridge Boulevard
Burden Boulevard and Road 68
Court Street and 5th
Van Giesen and George Washington Way