Boy escapes as mom drives into river, killing herself & 3 kids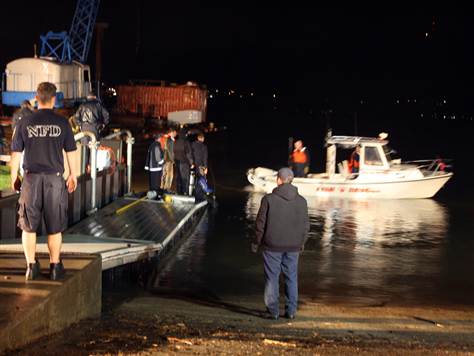 NEWBURGH, N.Y. - Police say a 10-year-old boy escaped through the window of a minivan as his mother drove herself and three children into New York's Hudson River.
Twenty-five-year-old Lashandra Armstrong — who had just been involved in a domestic dispute — and her three children died, but the boy, Lashan, swam to shore and a woman driving by picked him up and took him to the fire department.
The crash was ruled a suicide by City of Newburgh investigators, the Hudson Valley Insider reported.
The boy told firefighters his mother had driven off a boat ramp in Newburgh shortly before 8 p.m., about 60 miles north of New York City, and into the murky water of the river, fire chief Michael Vatter said.
Inside with her were the boy's siblings: 5-year-old Landon, 2-year-old Lance Pierre and 11-month-old Lainaina.
Firefighters and police officers responded with boats. Divers searched for the minivan for about an hour before finding it submerged 25 yards offshore in nearly 8 feet of water. They used a heavy-duty tow truck to pull it up the boat ramp and onto land.
Altercation 10 minutes before
During a press conference Wednesday morning, city of Newburgh police Chief Michael Ferrara said officers had received a call from a relative, revealing that Lashandra was involved in a domestic dispute with the father of her kids.
According to The Times Herald-Record, officers had gone to an address in Newburgh at 7:45 p.m. following a report of the domestic dispute.
However, he told the paper that when they arrived, there was no one at the house. Minutes later, the boy turned up at the fire station.
"It's a horrible sight, all of them in the car," Ferrara said.
A neighbor Jim Simeon said he would often hear sounds of children playing in the home upstairs, but added he had not spoken to the family.
"The kids play, but not fighting ... It's terrible," he told The Times Herald-Record.
Several neighbors on Wednesday recalled the woman as an attentive mother who balanced care of her children with an outside job at a warehouse. They were shocked by the news.
"She was a very good mom," said Tina Claybourne, who lives nearby. "She took care of her kids. She always was with her kids."
"This is the worst call I've been on in 12 years," a Newburgh city firefighter told the Hudson Valley Insider.
Newburgh, which has about 30,000 residents, sits on the western shore of the part of the river that runs south through New York state and eventually splits New York and New Jersey. The town is about 30 miles north of suburban Westchester County.
The incident is reminiscent of the case of a South Carolina woman who drowned her young sons in 1994.
Susan Smith is serving a life sentence for killing 3-year-old Michael and 14-month-old Alex by strapping them into their car seats and driving the car into a pond.
Smith originally claimed she had been carjacked by an African-American man — an accusation that stoked racial tensions in the South — before the truth came out.