High hopes for Southridge business development and sporting complex
Posted:
Updated: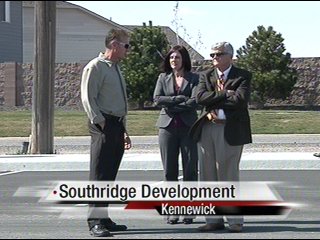 KENNEWICK, Wash. -- The Southridge Development is filled with businesses and the city of Kennewick is preparing to open to the public.
"You'll see people using the facilities this year, " says Kennewick Mayor Steve Young, "hopefully by September."
The Southridge Sports Complex will have four ball fields, two multi-purpose fields, a pavilion and a hub. Young expects the whole project to be completed by next Winter.
"The pavilion, it's an indoor facility that will have the ability to have soccer, basketball, events. It's really going to be a multi-use indoor facility that will help accent and compliment the ball fields that we have out here," says Kennewick City Manager, Marie Mosley.
The sports complex project cost 13.6 million dollars, money Kennewick got by selling bonds, and it's money they hope to eventually get back through sales tax dollars.
Mayor Young says Southridge is the perfect location. "As you enter in the Southern gateway of Kennewick, on 395 the first thing you're going to see is this area here with children and families and tourism going on. Eventually you're going to see the construction of the new KGH hospital, and you're going to see a mixed use facility that really fits, not only the needs of today's family, but it's designed around the future," says Young.
Developer Dean Maldonado owns Miranda Management and 240 acres of the area. He says location and spending power in Kennewick is why Southridge was his choice. "When you look at Southridge, it's the gateway to the city. Kennewick does about a $1.9 billion in retail sales. 9% comes from Oregon, 10% comes from more than 20 miles away," says Maldonado.
Maldonado has already put in at least $11 million dollars in developing the streets to spurt growth.
He says his shopping plaza will be full by next month. "We have Bob's Burger & Brew, Meadow Hills vet clinic, Taco Bell, Comfort Suites, Picazo's restaurant, True Built Homes, Tanning Salon and Smasne's cellars,"
Picazo is relocating from Prosser, and opening in May. Other developers will be also be putting a gas-station mini-mart and coffee shop there as well.
Z. Place Salon and Spa Owners, Greg and Vonda Smith say they've chosen to move to Southridge from their previous Kennewick location.
"To have everything fresh and new, being able to draw the people who live on this side of town, that haven't had the services offered before. They will be coming in right off of the freeway, The access is great from all of the Tri-Cities. "I think as the Tri-Cities grows these are the types of services, that people are looking for, the restaurants, the wineries, the spas, people can golf," says Vonda Smith.