Cougar found in Richland home
Posted:
Updated: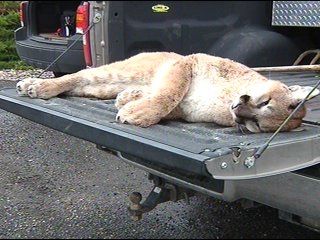 RICHLAND, Wash.—Richland neighbors are a little shaken up today after a cougar was discovered in a nearby home Friday morning. KNDU spoke with everyone involved in removing the animal, including the construction workers who found the cat.
A local construction worker, Jordan Charron, says he headed to work on Soaring Hawk Street in South Richland just like any other morning, but Friday he found more than just his tools waiting at the half-built home
"My first thought was to get away from it," says Jordan Charron, found cougar.
Charron saw a 6-foot long cougar standing in the basement. He says he left the home as quick as possible.
"I told everybody there was a cougar in here... But he moved over under the stairs and that's where they took care of him," says Charron.
Richland Police and a Fish and Wildlife officer arrived to find the 16-month-old cougar under the basement stairs. That's when they decided tranquilizing the animal wasn't enough.
"Sometimes the darts fail, sometimes the drugs fail. I mean there's a whole bunch of circumstances that you have no control over when you're dealing with something like that," says Officer Brian Fulton, WA Fish and Wildlife.
"There is a concern especially because we're close to a playground, there's lot of children around here and pet and animals. There is danger," Corporal Tom Croskrey, Richland Police Department.
Three officers shot the cougar at the same time, and because of the surroundings, they think it was their safest option. Fulton says until Friday morning, he had never euthanized a cougar in his 8 years with Fish and Wildlife, but that doesn't mean cats never make an appearance.
"With more and more urban growth and increasing cougar populations it is something that while it is rare still does happen," says Fulton.
The cougar will now be used for educational purposed with Fish and Wildlife, and for Charron, he hopes finding a cougar at work will only happen once.