SARC Shoe Sale and march
Posted:
Updated: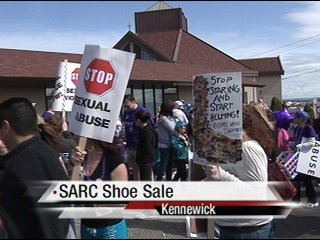 KENNEWICK, Wash. -- A shoe sale is one way to catch your attention about a serious issue affecting many Americans, and that's exactly what the organizers of SARC did Saturday at the Lord Of Life Church in Kennewick.
The Sexual Abuse Response Center and the Crime Victim Service Center wanted to raise awareness specifically during April, which is Child Abuse Prevention Month.
One in three girls and one in five boys are sexually assaulted before the age of 16. The groups hosted a march for community members to show support to victims of all crimes.
Kennewick Police Chief Ken Hohenberg says, "it's really a good opportunity for the community to come out, rally together and remember the victims of not only sexual assault but this year victims of crime.'
The group of more than 100 did their "Stride of Strength," march in Kennewick.
Before the march the group held a shoe sales. SARC Executive Director, Jodee Garretson was pleased with the results.
"We were really fortunate to have approximately 300 pairs of shoes donated to us. So we're trying to move them out, they're only 10 dollars a pair, and use that to help with our education program," says Garretson.
SARC does have a free, confidential 24-hour help line. phone: (509) 374-5391 830 North Columbia Center Blvd, Suite H Kennewick, WA 99336