Mother, two sons killed in early Saturday morning fire in Ellensburg
Posted:
Updated: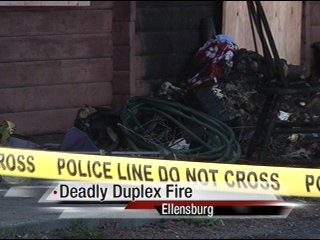 ELLENSBURG, Wash. – A mother and her two sons were killed in a fire early Saturday morning at their duplex after a stove with a pan and food was left on overnight.
"This is a tragedy, it's an absolute tragedy," said Chief John Sinclair of Kittitas Valley Fire and Rescue.
Dispatch received a call around 12:30 a.m. and crews arrived at the 200 block of E. 14th Ave. within nine minutes. They found the home with flames coming out of the back of the house as well as another window.
Kittitas Valley Fire and Rescue got the fire under control and then went inside to find anyone trapped. They located the mother and a six-year-old boy inside one room and brought them to on-scene medical units. They later located another boy that had already died from injuries inside.
The mother and son were taken to Kittitas Valley Community Hospital after the medical units completed their initial response. The mother died shortly after arriving at the hospital, her son died an hour later after doctors were unable to revive him.
Firefighters believe the smoke detector was disabled inside the duplex.
Sinclair says this fire is an important reminder for the public to make sure smoke detectors are working and that if they disable them while cooking, they must remember to turn them back on. He also says every family should have an exit plan in the case of a fire.
"It's very hard on the firefighters," said Sinclair. "It's very hard on the families left behind but we absolutely must learn from the tragedies."