Victims identified in deadly Ellensburg house fire
Posted:
Updated: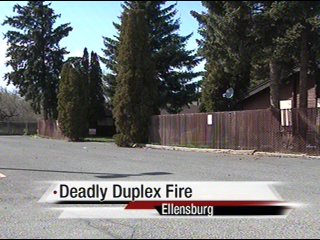 ELLENSBURG, Wash. -- Kittitas Valley Fire and Rescue have identified two of the three victims killed in Saturday's house fire in Ellensburg.
Fire chief John Sinclair told KNDO Sunday, the name of the two victims are Cynthia Smith, 31, and Cade Crowe, her 6-year-old son. The name of the 4-year-old boy had not been confirmed, according to Chief Sinclair.
Several people stopped by Sunday and placed flowers across the lawn in front of Smith's home. Many were parents whose kids attended Valley View Elementary School with Cade.
Dispatch received a call around 12:30 a.m. Saturday of a structure fire on the 200 block of E. 14th Avenue.
Kittitas Valley Fire and Rescue got the fire under control and then went inside to find anyone trapped. They located the mother and a six-year-old boy inside one room and brought them to on-scene medical units. They later located another boy that had already died from injuries inside.
The mother and son were taken to Kittitas Valley Community Hospital after the medical units completed their initial response. The mother died shortly after arriving at the hospital, her son died an hour later after doctors were unable to revive him.
Fire investigators determined the cause of the fire was due to food left unattended on the stove. Investigators also confirmed there were no batteries inside the home's smoke detector.
"There didn't appear to be any functioning smoke detectors in the home. Although the landowner had stated that when they had moved in, he had put and installed smoke detectors. So as to why, we don't know that," Chief Sinclair said.
Ellensburg police has taken over the investigation. The exact cause of death is not known at this time.
Sinclair says this fire is an important reminder for the public to make sure smoke detectors are working and that if they disable them while cooking, they must remember to turn them back on. He also says every family should have an exit plan in the case of a fire.