Inslee visits Sunnyside irrigation facility
Posted:
Updated: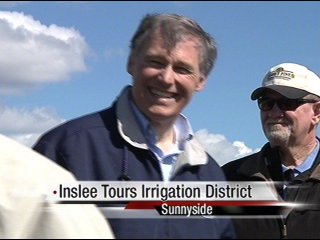 SUNNYSIDE, Wash. -- U.S. Rep. Jay Inslee, D-Wash., made a visit to Sunnyside Monday to check on improvement projects at the Irrigation District.
Inslee, who represents the 1st Congressional District, took a tour at the Sunnyside Valley Irrigation District and met with irrigation district leaders. The group shared their progress with Rep. Inslee, made possible largely from the Yakima River Enhancement Act, he helped to pass in 1994.
The District provides water to about 10,000 customers throughout the Yakima Valley.
The Enhancement Act has allowed funding for several improvement projects that Inslee sees as a great benefit for Yakima County.
"We've created jobs, both in the construction and we've created jobs in agriculture," explained Inslee. "That now we're going to have a better water irrigation system available to us."
Irrigation district manager Jim Troull says the Re-regulating Reservoir, which takes water from the Yakima Rivers, is the last of three phases. "By putting in this reservoir, as well as the other system improvements, has enabled us to provide a better level of service to our landowners, at a relatively minimal cost."
The first phase, is adding system improvements to the Sunnyside canal, which is about one to two years way from completion, according to Troull.
The second phase, is the enclosed lateral systems for the canal. That project will take another 10 to 15 years to complete.
Finally, the third phase is the re-regulating reservoir, which is expected to be completed by July of this year.
"A lot of work remains to be done there," explained Troull. "But we really got a jump start on that by getting the stimulus funds."
Troull says the Sunnyside Canal Improvement Project has the capacity of about 300 acre-feet. In conjunction with the two other similar re-regulating reservoirs, the canal automation and systems, Troull says it will enable the District to save about 30,000 acre-feet of water in that space alone.
The project will not only help the agriculture community but also Salmon, according to Troull. "The Sunnyside Canal Improvement Project will provide an additional 30,000 acre-feet of water, below the Sunnyside Dam to benefit to benefit fisheries."
The canal improvements and the enclosed conduit systems will cost approximately $125 million dollars to complete. Troull says 65 percent of the project is paid by the Federal government through the American Recovery and Reinvestment Act, 17.5 percent from the State, and the remaining 17.5 percent by the Sunnyside Valley Irrigation District.