Accused drug cartel leader has ties to Yakima area
Posted:
Updated: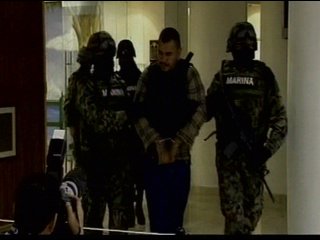 TIETON, Wash. -- The man accused of ordering mass killings in Mexico's drug war was once a resident of the City of Tieton.
Martin Omar Estrada Luna, 34, and several other members of the Los Zetas Drug Cartel were arrested over the weekend in Mexico.
Estrada Luna is from Tieton, but in Mexico, he was a cartel boss known as "El Kilo." He's accused of leading a violent drug cartel, responsible for the killings of more than 200 people since last summer.
KNDO spoke to a person who asked to remain anonymous, and says he went to Highland Middle School with Martin Estrada during the mid-1990's.
The former classmate says, although the two were never friends, he's still shocked to hear about the arrest. The person told us Estrada was not involved in any sports or extracurricular activities in school, and hung out with a small group of friends.
We also spoke to Gabriela Ochoa, owner of the Carnicera La Michoacana Meat Market in Tieton, who was shocked by the news.
"I was very surprised because, he was around this area for many years, and I hear that he has his family in Tieton," Ochoa said.
Military leaders say Estrada was also linked to the murders of 72 immigrants found at a Tamalulipas ranch in August. Authorities believe hitmen from the Zetas Cartel hauled off the victims from buses and killed them. Some of the victims are still being identified in what is considered the worst mass killings in Mexico's drug war.