School working to prevent gang activity
Posted:
Updated: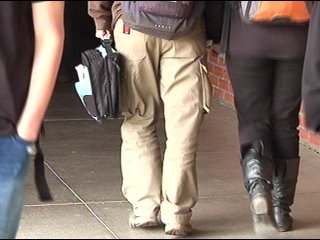 WALLA WALLA, Wash. -- The students that walk through Walla Walla High include kids involved in part time jobs, sports, and gangs. It's been a problem that's not isolated to the streets.
"A couple of new gangs forming in the community and that shows up on our campus," says school resource officer Scott Brashear.
To stop the problem, officers keep an eye out for red flags like clothes, attitude, and behavior. If a student is identified as being in a gang, they start a file for proof.
"And he says, 'oh I'm not involved in a gang, I don't know anything about gangs.' Well they go through their file and go 'hey wait a minute, here you're all decked out. You look like a gangster in this photo.' You got suspended from school."
Resource officers are the only thing keeping gang violence low in schools. According to the district superintendent money and time is why more programs don't exist.
"Kids are doing more academically, then they've ever done before. And, in terms of the time element comes in where do you bring that into the day," says Superintendent Mick Miller.
From 7:30 to 3:15, schools like Walla Walla High are probably one of the safest places for students avoiding gang violence. But, when they leave, the problem is waiting for them on the other side, and that's why school resource officers and administrators are trying to find a way to prevent the problem on the outside.
"The better we build good relationships with our kids, where kids understand we care about them, we want to see them be successful in their life. That's the best gang alternative we could have are strong adult and kid relationships," says Miller.
Relationships that keep kids focused on education and not crime.