Toppenish teen makes national news with her "pretend pregnancy"
Posted:
Updated: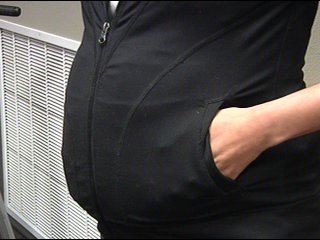 TOPPENISH, Wash-- Gaby Rodriguez got her life back Thursday. It was the first day since October that she didn't have to pretend to be something she wasn't...pregnant.
"Teens now live in the shadows of stereotypes and rumors and I just want to break that and kind of just set them free", says Gaby.
The teen shocked the students, staff, and faculty at Toppenish High School Wednesday when she announced that her "pregnancy" had actually been a social experiment for her senior project.
For the last 6 months Gaby's walked the halls of Toppenish High School in baggy clothes and then with a fake pregnant belly under her clothes. But the experiment didn't end at school, her friends, her siblings, even her boyfriends parents didn't know. When she came clean there was some anger and hurt feelings
"The closest people to me were mad at first, they felt lied to, betrayed", she admits.
But she says overall the response from students and staff has been positive.
Her mother, boyfriend, principal were all in on the secret. They felt the potential reward was worth the possible damage of the deceit.
"I think that it starts the conversation. I don't know if one presentation will change the way people think long term but it certainly gets the ball rolling", says Trevor Greene, Principal of Toppenish High School.
Gaby has kept a record of how students treated her differently over the last six months and the rumors they spread about her.
"It was bound to happen, that I was irresponsible that I wasn't going to continue school", were just some of the few says Gaby, "confronting it an putting it out there for teens to realize that what you say about other teens, it gets to them".
"This leads us to ask what side are we on as adults? Are we doing everything we can to support them in the situations that they're in?", asks Greene.
This was just as easily a test of dedication, Gaby sacrificed 6 ½ months to this project.
"I just feel that I made my senior year better by doing this because I get to say I made an impact in some of the students lives here and the best things are yet to come", she insists.
On that list are including prom and graduation which she can now enjoy in her real body.