Wildhorse Resort and Casino working on $45 million expansion
Posted:
Updated: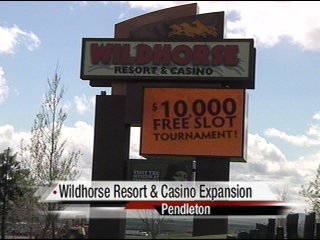 PENDLETON, Ore. -- With a 150 foot crane in place, the Wildhorse Resort & Casino is going all in with a $45 million expansion.
"It's about a year long process and we'll be open September 2nd," says Al Tovey, the General Manager at the casino.
The Confederate Tribes of the Umatilla Indian Reservation, who own and operate the casino, are expecting lots of changes.
"It includes a 202 suite 10 story hotel. It also includes additional space in our casino we'll be able to put about 400 -600 slot machines," says Tovey. Total expansion will be around 184,000 sq feet to include
New Porte-cochère for hotel and casino entrance, a wet bar, larger bathrooms and bedrooms with a view of the Blue Mountains.
The Wildhorse Resort and Casino will have a total of 300 hotel rooms once the expansion is complete. Construction is being done by J.E. Dunn Contractors out of Portland, Oregon, the same company that recently constructed the new Tribal Government building
The resort and casino draws in a lot of gamblers and tourists, with a golf course RV park and four restaurants, but they're taking it a step further with a five cineplex theater, one of the theaters will be 3-D.
Tovey says the casino has come a long way since it's opening. " When we built this 16 years ago, it was a little trailer over here. it provided 75 jobs, I think it was in 1992, there was 150 employees working for the tribe, now its going to be well over 1500 pretty soon."
In fact, the Confederated Tribes --made of the Cayuse, Umatilla and Walla Walla tribes is the largest employer in Umatilla County.
They have 650 employees at the Resort and Casino and will be hiring an additional 100 people with the expansion come September.