Man canoeing against obesity
Posted:
Updated: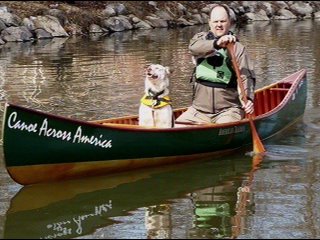 RICHLAND, Wash.—Obesity is a growing problem in the U.S. and one man is taking his battle against the condition all the way across America in a canoe.
Darrin Kimbler is canoeing across America to not only raise awareness of obesity but to save his own health by slimming down. Along for the ride is his dog Mike.
"He's been getting rained on and seasick and everything else, but he's been a trooper," says Darrin Kimbler.
Kimbler and his dog started their 5,200mile trip just three weeks ago.
"I started in Astoria, Oregon on April first. I've been on the water for a little over three weeks now, and I hope to finish in Key West Florida in around the 1st of December," says Kimbler.
His adventure isn't just about helping others. He hopes it will help him to reach a healthy weight, especially after his own dad had health complications.
"My father had his first heart attack at age 40. I'm 41 and a lot of the heart disease in our family is contributed to weight problems," says Kimbler.
According to the American Obesity Association one in three Americans are obese, that's more than 63-million people.
"My challenge to everybody is I know you can't spend 8 months paddling, but I'd like them to get out one hour a day for 8 months," says Kimbler.
If you want to follow Darrin and his travels, you can find him on facebook under the name 'Canoe Across America.'