Outlook dairy farm turns to technology for help
Posted:
Updated: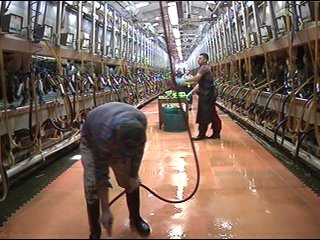 OUTLOOK, Wash. -- An Outlook dairy farm is using technology to make their farm more efficient as a way to help out the environment.
The George DeRuyter and Sons Dairy in Outlook, sits on more than 1,000 acres. Inside, co-owner Dan DeRuyter takes KNDO into his dairy parlor, where 80 cows can be milked at one time.
"The milking area's monitored from this other program and basically it shows the amount of milk given per cow," explains DeRuyter about the software program used at the Dairy, "It shows the time, it actually checks when the guys that are washing the lines because we wash the pipe lines three times a day."
When not being milked, DeRuyter's dairy cows are either eating feed or relaxing on the ground.
"Every cow has an electronic I.D. on their ear, and that electronic I.D. when I scan it with the scanner here, it basically brings up all of her information right up on this little PDA here," DeRuyter explained.
DeRuyter says they can carefully monitor each of their 3,000 dairy cows using specialized software, that can keep track of each cow, their health, and what they eat. "The feeding system is efficient because it basically, it allows us to be able to make adjustments in the rations according to what the cows needs are, and it does all of the calculations."
"You want her to eat a nutritionally balanced meal, you want her to drink fresh water. And then you want her to lay down as soon as possible, because if she's laying down, she's making milk," DeRuyter said.