Outlook dairy farmer turns waste into energy
Posted:
Updated: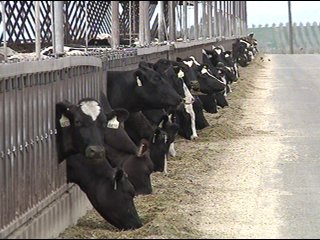 OUTLOOK, Wash. -- An Outlook dairy farmer passionate about recycling is turning waste into renewable products.
At the George DeRuyter and Sons Dairy Farm, they believe in nothing going to waste, not even, cow waste.
Manure may not be pleasant to look at or be around, but for the DeRuyter family, it's serious business.
"We're handling our manure in a way that we wouldn't have dreamed of 30 years ago. And, I think we're just going to keep on improving that," DeRuyter explained.
DeRuyter says cow manure from the outdoor stalls goes into a drain, into a 3.3 million gallon tank, known as a digester, and explains the process of how waste is turned into energy, "The methane pressurizes in the top lid of that tank, it pumps over to the engines and we have engines that run off of methane. The engines with, actually turn the gen set, creates electricity and we pump that electricity out to the grid."
DeRuyter says they can create enough energy from the methane to power up to 800 homes. The electricity is sent to a power grid, maintained by Pacific Power.
"You know, there's a lot of recycling going on in between. I mean, it's the water, it's the bi-product of the feed that we give the cows and stuff like that. But you know, it's just one big circle," DeRuyter said.
Although the concept of recycling waste has been around for a few years, DeRuyter says dairy farmers are continuing to look at ways to help out the environment. "In this situation what we do, is we end up with the methane, but we're burning it through the engines and stuff. So it ends up destroying a lot of the methane and so, in that element, we're cleaning up the environment that way."