Immigration attorney accused of taking client's money and running
Posted:
Updated: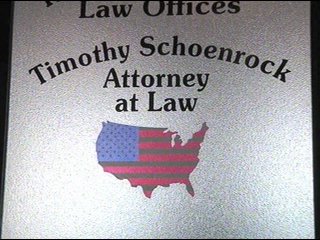 4-14-2011
Sunnyside, Wash- 2011 hasn't been easy for Olivia Vargas. Her husband Luis had been in the country illegally and was deported to Mexico in January, leaving her with six kids and another one the way.
The couple hired Yakima attorney Tim Schoenrock to make sure Luis would be able to return. Olivia, a US citizen, says she initially wanted to take her children and go to Mexico with her husband to keep the family together until he could return. However she says Schoenrock assured her that her husband would only be gone a short time and told her her case would be stronger if she and her kids stayed in the country.
"He should be in Cuidad Juarez for anywhere from three days to no more than a month. It shouldn't pass no more than a month that he should be in Mexico", recalls Vargas.
But a month passed with no progress. Olivia says she called Schoenrock's office for months and never got a call back. She was able to get his cell phone number and as soon as he realized it was her calling he stopped answering the phone. Olivia's supposed to be on bed rest because of complications with her pregnancy, but now she's responsible for running her husband's recycling business. On top of that she's had to make the 40 minute drive to Schoenrock's office in Yakima multiple times to try and get answers in person.
"We went on January 12th to have these signed. My husband signed these and when I went back on February 24, the same applications were still sitting in his office. They have never been sent. The secretary showed them to me", says Vargas.
Tim Schoenrock is not one of those "notarios" you've been warned about. He is licensed to practice law in Washington. But KNDO called his office for the last week and the number is disconnected. It's now closed with boxes packed up inside. There was no note with a forwarding address or phone number.
Besides the $2,500 Olivia and her husband paid as a retainer Schoenrock charged them for application fee after application fee, hundreds of dollars per document. She says she's paid him about $5,000, and she didn't even know if they had been filed.
KNDO was able to help get Olivia an appointment with immigration services this morning. They verified that no applications for her husband to be let back into the country had been filed. In fact two of the ones she paid for weren't even necessary. The immigration officers went through Olivia's case step by step with her and showed her the paperwork that actually should have been filed.
We tracked Schoenrock down and he agreed to meet us at the immigration office to hand over Olivia's husband's file and tell his side of the story. He never showed.
While Olivia's relieved to finally have some answers, she's nowhere closer to getting her husband back.
"I have no idea how long he's going to be gone now, we don't even know and I can't afford another lawyer right now", Vargas says.
Vargas has had to disregard doctor's orders about bed rest because she is now the only provider for her children, but she worries about what that might mean for her unborn baby. She says that at this point she just wants Schoenrock to refund her money so her family can have something to live on while she tries to get her husband back.
In the meantime, under the direction of immigration services, she's filing the correct applications for her husband. She's also filing a complaint with the Washington State BAR Association.