Yakima Crystal Apple Awards recipients named
Posted:
Updated: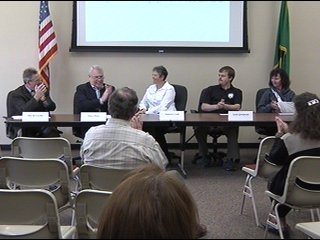 YAKIMA, Wash. -- Winners of the 2011 John D. McAlister Crystal Apple Awards were announced Tuesday.
Three Yakima teachers were chosen out of a total of 10 who were nominated. This year's recipients are Annette Cook, a P.E. teacher at Eisenhower High School; Scott Goranson, band and choir teacher for Washington Middle School; and Janni Holsclaw, who teaches music for nine elementary schools in the Yakima School District.
Holsclaw, a general music teacher, thought she was walking into a meeting about getting new instruments. "I walked in the door and this was an absolute shock. I had no idea. So to receive this honor is, is just something beyond words. Appreciated. I am grateful."
Each teacher will get $1,000 and Crystal Apple Award which will be presented at a ceremony on May 2 at 4:00 p.m. at the Yakima Convention Center.
The eight other educators who were nominated by their peers, students or parents included: Lewis Benedicto, Judi Harris, Jean Love, Mary Masten, Patti Pendergast, Bob Stanley and Cheryl Tyrrell.
The awards committee is made up of members of private industry, public organizations, parent groups, former award recipients and district staff.
In 1998, the late John McAlister spearheaded the community-sponsored awards program in effort to recognize the many individuals in the Yakima School District who made positive impact in the lives of their students.