Foster Teen to College Program honored
Posted:
Updated: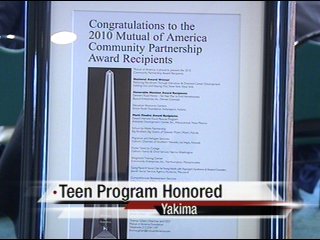 YAKIMA, Wash. -- A local program helping youth in foster care pave their way through college is being nationally recognized for their work.
Dozens attended the Mutual of America's 2010 Community Partnership awards luncheon Tuesday at the Apple Tree Grill in Yakima.
Catholic Family and Child Services Foster Teens to College Program was named Mutual of America's 2010 Merit Finalist award winner.
KNDO spoke to two high school graduates who say they've benefited from the program.
"It's helped financially, I mean support. We got a lot of support. We still get support. I don't know, even when we felt we needed a break, support was still there. It was awesome," said Holly Allen, a student who is in the Foster Teens to College Program.
"And I think that that's what kind of kept us all in school," Brenda Gonzalez, another student in the program, added.
The Foster Teens to College Program helps high school students throughout Central Washington who are leaving the foster care system by providing mentoring and support.
Now in its 16th year, The Mutual of America Community Partnership Award recognizes nonprofit organizations in the U.S. that have shown exemplary leadership by facilitating partnerships with public, private or social sector leaders who are working together as equal partners, not as donors and recipients.
According to Catholic Family and Child Services, in 2010, 96 percent of Foster Teens to College participants set to graduate high school or receive their GED did so. Seventy percent entered post-secondary programs, and 63 percent continued to their second year of college and beyond.
The program is currently expanding its partnerships with local post-secondary educational institutions. For more information about the program or Catholic Family & Child Services, visit http://www.cfcsyakima.org/.
In 1996, Mutual of America Life Insurance Company created the Community Partnership Award.
"It was very easy for our selection committee to select this program," explained CEO and Chairman Thomas Gilliam, of the Mutual of America Foundation, "Because it is such an outstanding, such a unique, innovative program."