When the going gets hard, the Natives keep going
Posted:
Updated: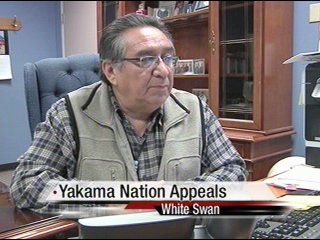 WHITE SWAN, Wash- For the second time in less than a year flags throughout the Mid Valley are flying at half staff.
Lance Corporal Joe Jackson was not a member of the Yakama Nation, he's a Gila River Native American, but he lived in White Swan and was part of the native community there for ten years.
"Regardless of if they're a tribal member or not, anytime we lose a military person that's very devastating to all of the Nation", says Harry Smiskin, Chairman of the Yakama Nation Tribal Council.
He would know. Last may the Yakama Nation was rocked by the death of Lance Corporal Evan Matthew Sanchey. The 23-year-old Marine was killed in a hit and run car accident just before he was scheduled to return home from Afghanistan.
Add to that the fact that members of the White Swan community are living with a "new normal" as they deal with the aftermath of February's fire that destroyed 20 homes.
"The community's been very impacted over the last year, it's very devastating on a community that's very close, small knit community, everybody knows everybody", says Smiskin.
That sense of togetherness is part of what's helped Shawn Marceau make it through the last two days. Since he learned his son Lance Corporal Jackson's death, he says he's drawn strength from the white swan community.
"We've been through worse and we'll go through worse but through the trials we'll make it out of whatever, that's just us", says Marceau.
Smiskin says the Yakama Nation will join the military escort when Lance Corporal Jackson's body lands in Seattle. The Marines say that should be in a few weeks.