Father mourns fallen Marine
Posted:
Updated: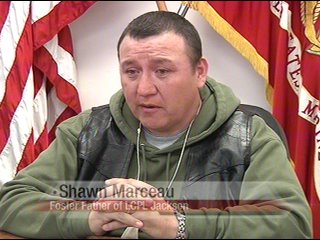 WHITE SWAN, Wash- "They showed up and it was like a movie, scary", remembered Shawn Marceau.
As soon as he saw the uniformed men on his doorstep Sunday morning he had no doubt what was coming.
But that didn't make it any easier to hear that his son, 22 year-old Lance Corporal Joe Jackson died Saturday night in Afghanistan. A former marine himself, Marceau instilled the Corps' values into his foster son, and they stuck.
"Live the American dream, and he did, he could have done anything he wanted", said Marceau.
Lance Corporal Jackson enlisted less than two years ago and was deployed to Afghanistan in March. He had volunteered for a security position in his patrol and was struck by an IED. The corps says his actions likely saved other marines from being hurt in that explosion.
"One thing he always said was he's going to pay it back and I'll be damned if he didn't pay it back", Marceau reflected.
Lance Corporal Jackson was a Gila River Native American and lived in White Swan. His father says that his son was dutiful and selfless. He was a natural athlete and musician and preferred spending time with his family to going out.
"That was my best friend. Besides my little girl, that was my best friend. I lost my best friend", Marceau said overcome by emotion.
At times it seems nothing will ease this grieving father's pain, but he says there's one thing we can all do to help.
"Don't forget him", Marceau pleaded.
Lance Corporal Jackson continued the family tradition of military service. His father and grandfather were Marines and his great grandfather parachuted onto Normandy during World War II. Now Jackson himself is a decorated war hero. His five military honors include a Purple Heart.