Ellensburg's cool past, present, and future
Posted:
Updated: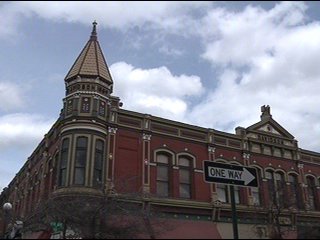 Home to Central Washington University and famous for its rodeo; many do not know Ellensburg has a cool past, present, and future.
The city was selected by KNDO for its "Cool Towns" series airing on Thursdays in May. Historic photos courtesy the Ellensburg Public Library.
Founded in the 1880s, Ellensburg was considered an ideal spot for the state's capital because of its central location. It even came close to winning that title but a fire burned nine square blocks just months before the vote. Rebuilding the city wasn't enough to land the capital designation but it did leave a lasting mark on those who still live there.
"The community has held onto some of those big ideas that were proposed in the 1880s, 1890s," said David Wheeler, an expert on the city's history. "They haven't let go of them, even though we're not the state capital."
Wheeler says Downtown Ellensburg keeps reinventing itself every decade. He says you can see the gradual change from the increase in banks and less taverns in the city.
Hard economic times forced the historic look around town to remain through the 20th century. That unique style and a sense of community remain today.
Councilwoman Fennelle Miller says that unique style and sense of community remain today.
"There's always been this core support for the small businesses that means so much," she said. "You walk around Ellensburg and probably 90 percent the windows downtown you see a little sticker that says independent retailers."
Gordon Wollen owns Ellensburg Wine Works, the Yellow Church Café, and Guest House Ellensburg. He says having a major university brings in a diversity of people and thinking.
"We have a lot of people coming into this town, spending some time here, leaving their mark and then moving on," he said. "As a result it's just constantly changing."
Wollen says the city's proximity to Seattle is another asset. He sees a Napa Valley in the making when reflecting on the town's wine industry.
One way Ellensburg is looking forward is renewable energy. Residents can invest in a community solar project run by the city. They earn credit on their bill from the energy produced by panels placed inside West Ellensburg Park.
"We felt like it was important to get started now," said Gary Nystedt of the Energy Services Department. "So that in a few years not only will the cost of the technologies go down but also the efficiencies will go up."
The project started in 2006 and has doubled in size since then. The number of investors has also increased to more than 100 contributors.
Puget Sound Energy is also using the area's solar and wind resources with the Wild Horse Wind and Solar Facility. It features the Renewable Energy Center, which is one of the nation's only places open to visitors.
A city with a storied past is working to build on its history and write a future that is just as interesting.
COOL Places, Businesses, and Events:
Kittitas County Chamber of Commerce
Kittitas County Farmers Market
Kittitas County Historical Museum
Kittitas Valley Coldwell Banker