Yakama Nation releases sturgeon into the Columbia River
Posted:
Updated: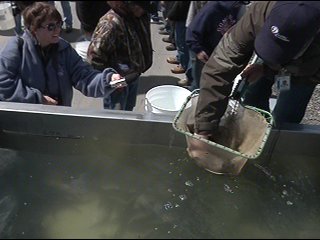 NEAR VANTAGE, Wash. -- The Yakama Nation is teaming up with several agencies and local tribes to help increase the white sturgeon population in the Columbia River.
Dozens of people lined up along the Wanapum Boat Ramp, holding buckets with their own white sturgeon to release into the Columbia.
More than one thousand sturgeon were released Thursday, as part of the sturgeon conservancy efforts of the Priest Rapids Project.
Each juvenile sturgeon released is less than a year old, and only about a foot in length. The fish can live to be 100 years old.
Yakama Nation sturgeon project manager, Donella Miller says this is only the second release for the hatchery sturgeon, noting the fish have been on the decline for years. "There're a number of factors. There's the passages that have been blocked," explains Miller due to the dam, "So you don't have that, that movement throughout the river system for the sturgeon to reach their spawning grounds and also for feeding."
Millers says they hope to use information learned from the conservancy project to be later applied for future programs saying, "To increase the success of our overall fisheries management throughout the entire, not just the stretch of river, but also you know, the Columbia Basin in general."
The project is a collaborative effort by the Department of Fish and Wildlife, members the Wanapum Band of Priest Rapid, Yakama Nation and Grant County PUD leaders.
"Our program is still in its infancy, but you can see here today, that year two of the program included initial supplementation," says Mike Clement, senior biologist for Grant County PUD. "So what you're seeing today is the first steps in rebuilding these populations."
Helping the sturgeon population will allow for the next generation to get a chance to learn and enjoy these fish.
"Be aware of, you know, how ancient of fish they are and how also," explains Miller. "How long that they live. and they can pass that onto future generations."
About 9,000 sturgeon are expected will be released into the Columbia River by the end of the week.
The sturgeon are raised at hatchery farm located in Toppenish.