Gas prices weigh on growers
Posted:
Updated: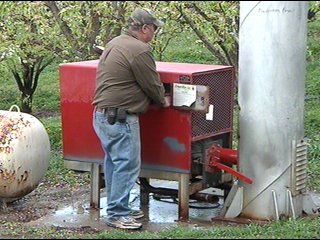 PARKER HEIGHTS, Wash- At $4 a gallon it's getting harder and harder for consumers to fill up their tanks. But when you're a grower, your tanks include mowers, tractors, wind machines, and heaters too.
"To cut back on fuel consumption one of my practices is not to mow as much, sure I'm not going to have as pretty an orchard as maybe some of the neighbors but you gotta cut fuel somewhere", says Parker Heights orchardist Mike McAllister.
But mark and other growers don't have many other ways to cut back on business fuel. The unusually cold spring has forced them fight off the frost using wind machines and even the diesel guzzling heaters in extreme situations.
"Four dollars plus a gallon, that's a huge amount to spend in just an hour of heating", says McAllister.
So Mark makes cuts to his personal driving.
"We try not to go to town as much for parts, we let the thing stay broke down and get multiple parts or do multiple things in town"
Congressman Doc Hastings made a stop in Yakima this afternoon to talk with the agricultural community about situations like McAllister's. His opponents reject drilling for oil in the country because of the environmental impact. But he wants to look at all options.
"I'm just saying lets not ignore the huge resources we have of natural gas and coal for that matter", says Hastings.
Hastings is proposing three energy bills that he says he expects to pass the house in a few weeks however the Senate is another story.
In the meantime growers like Mark McAllister will have to figure out how to make due with escalating costs.