Yakima Valley on the Mend
Posted:
Updated: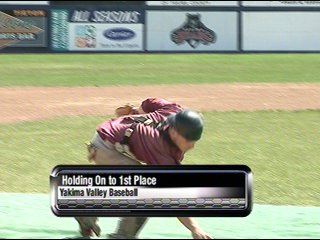 Yakima, WA--
This week Yakima Valley baseball experienced the thrill of being ranked second in the NWAACC poll, and the low of being swept by Columbia Basin Wednesday. Watching it's three game lead in the Eastern Region evaporate to just one over CBC.
Sophomore infielder Tyler Berman said, "Doesn't sit in your stomach very well, but you know jut another game gotta get over it and gotta keep playing."
Freshman infielder and pitcher Jake Fife added, "We believed that the difference is between us and them is us, and its you know... Its not about them... Its about the way we go about it every day."
The first place Yaks stand at 21-6 overall, and have no choice but to move forward. Practicing at game speed to prepare for its next challenge, Wenatchee Valley on Saturday.
Sophomore center fielder Roeman Fields said, "Cause everything that happens there is gonna happen in the game I believe that's better. Take you time its not gonna happen in game.">
Marcus McKinney is a second year assistant who helps lead practices, and his hooting and hollering at the players does not go unnoticed.
Fields added, "After every word even if he's yelling. You guys gotta do this K."
Berman said, "He was at this level one time too, so he's not much older than us. So it's really nice having a guy we can relate too."