Hundreds participate in May Day Rally for immigration reform
Posted:
Updated: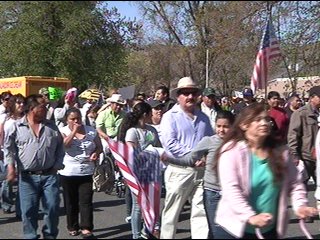 YAKIMA, Wash. – Hundreds marched as part of the May Day Rally on Sunday urging the state legislature to reduce budget cuts and President Obama to come through on his promise of immigration reform.
Leaders for Yakima Valley Community Members say education and health insurance reductions will primarily impact low-income families, which includes many undocumented workers. They also point to the split Houses of Congress for the lack of legislation on immigration reform.
Rogelio Montes was one of the organizers for the event. He says critics of the effort need to walk in their shoes. He argues the majority of those looking for a path to citizenship are good people but admits some are creating a bad reputation for the community.
"I'm not in favor of those people causing, you know, trouble [or] crimes," said Montes. "I think they got to be punished like any others and [the authorities] have to be fair with everyone."
Montes says Mr. Obama is the third president to campaign for reform but he has yet to come through on the issue.
The event began in the afternoon at Miller Park as the crowd gathered to hear from various speakers. They marched from the 3rd Street and "E" Street and headed south to Martin Luther King, Jr. Boulevard. The route eventually brought them back to the park.
Yakima Police officers escorted the crowd and managed traffic during the march.
Montes says until the country's immigration problem is resolved, families will continue to be divided by raids as well as individuals waiting for green cards.