Restraining order granted against West Richland Fire widower
Posted:
Updated: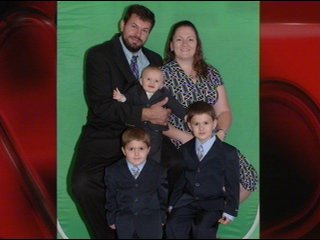 RICHLAND, Wash. - It's been more than a month since 26 year old Sandy St. George died in a West Richland house fire. The investigation on how the fire started or how Sandy died is still ongoing. Sandy's husband, Thomas St. George was also inside the house the morning of March 19, but was able to escape the flames.
The couple's three young boys were not inside the house that night. But now Thomas St. George is facing new troubles. The family of his 16 year old baby-sitter was granted a restraining order against St. George on April 29th. In the petition, the teenager's father claims Thomas St. George has been having a sexual relationship with his then 15 year old daughter.
The father says he only learned about the relationship after the fatal fire through a police detective. The petition gives many details on the alleged relationship between the 16 year old and 29 year old.
The father says he has asked St. George to stop all communication with his daughter but he has not listened. According to the report, St. George has been telling family members the girl was staying with them because her own family has kicked her out. The girl was reported as a runaway and picked up by police at St. George's residence on April 14. Her family says the girl has lied to them several times to sneak out and see St. George.
Upon learning about the relationship, the girl's father came forward to Assistant Pastor Randy Barnes, of the Temple Baptist Church in Richland. According to the report, the 16 year old gave a full fledge written account in detail of their relationship, which she says began when she was just 15 years old.
Barnes says, as with any group, the congregation was very concerned with what they learned and the church voted to place both Thomas St. George and the girl on disciplinary leave.
"There was enough indication of the presence of that relationship and a complete reluctance to denounce it on their part. That made it necessary for us to say if you're not going to do things to make it clear that it doesn't exist, then you can't be here," says Barnes.
The restraining order petition also says St. George bought the girl a car and the two shared a joint bank account. There is also many details of how the girl tried to get her hands on new cell phones to keep in contact with St. George. The document says, police found her even found her with Sandy's cell phone at one point. The report says West Richland Detectives ended up seizing the phones and a lap top, which was given to the girl by St. George.
The report says St. George is being investigated for statutory rape. Click here to read the restraining order.