Students use soccer to address funding need for college
Posted:
Updated: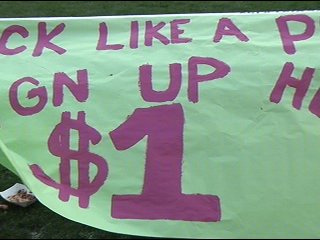 WALLA WALLA, Wash. -- Students inside Walla Walla High's courtyard are spending lunch time kicking soccer balls, but there's a bigger reward than scoring a goal.
"College is a scary transition, so we wanted to make it easier and fun," explains Walla Walla High Junior Ana Andrade.
So students involved in Walla Walla High's Avid Club created a fund raiser called "Kick Like a Pro" to raise money to establish a scholarship for a student.
"I'm one of those students who thought college was not a possibility because of costs and I wouldn't be able to afford it. But making this possible for students, I mean it will open the doors for anybody," says Andrade.
Opening doors that are becoming more expensive for students. Current tuition for a full time student at Washington State University is around $8,592.00. A full time student at Columbia Basin College is paying $1,172.00, and that could go up if cuts are made to higher education.
"These students are a great example of kids taking initiative and being determined about it. They have been planning 5 or 6 months for this event," says Sue Weber, coordinator for academic support at the high school.
The club collected $107.00 in just an hour in the first day of the three day event. Students know with graduates carrying an average of $23,000 of student loan debt, every bit helps.
"Getting into college, you want to get all the money you can and so college rates are like going up and so donating a dollar so just so someone can get a scholarship, I think that's important," says freshman Marlena Vargas Deleon.
Students who kick the hardest in the "Kick Like a Pro" event will take on their teachers in the Blue Devil College Cup on May 20th.
The student group is still seeking money for the scholarship and is looking for help from the community. People looking for help can send donations to Walla Walla High School's Avid Club.