Mobile barber helping clients who can't leave home
Posted:
Updated: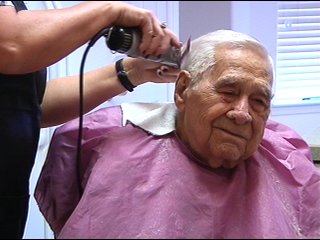 RICHLAND, Wash.-- One hairdresser in the Tri-Cities makes house calls, mostly to seniors who can't make it to a salon. "Anita's Mobile Barbering" will come to your house, cut your hair and nails, even give you a pedicure.
Anita Layman started her mobile barbering services more than 30 years ago in California, and she's been in the Tri-Cities for about 7 years now. One of her clients, Lawrence Hahn, 95, gets his hair cut once a month. He says, "If it wasn't for her coming here, I couldn't get it done. I was going a long time before she started coming and my hair would get pretty long." Lawrence broke his neck four years ago and has been using "Anita's Mobile Barbering" since.
Anita mainly works with clients over 60, who, like Lawrence, can't make it out of the house. She says, "They've got wheelchairs, walkers, and colostomy bags and just all kinds of things going on that prohibit them from coming in and getting their hair done." In addition to beauty school, Anita says, "I went to nursing school so I can understand their conditions, how to use all their equipment, how to better care for them."
She says services like this for the elderly or disabled are lacking. Haircuts may give them a sense of control back and their dignity, she says. Lawrence agrees, saying "If you meet people, you see people, or people come here, I want to look half way decent, you know?" Anita also says the pedicures and manicures are more about nail care. She says often times, elderly people can't bend down to cut their toe nails or hold clippers because of arthritis or other conditions, so nail care suffers and it can actually be a health problem with fungus or ingrowns.
Anita says many of her clients are on a low or fixed income and she wants everyone to be able to take care of themselves, so she keeps her prices as low as she can. A haircut starts at $17. If you want to schedule an appointment or find out more about Anita, call 396-0516.