Local Muslim Reaction to Bin Laden death
Posted:
Updated: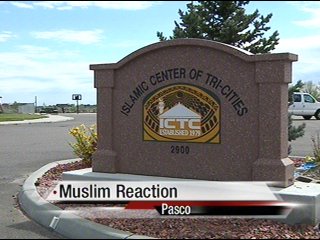 PASCO, Wash. -- The death of Osama Bin Laden has triggered celebrations around the United States, including within the Muslim Community. Two students at Columbia Basin College studying English have moved to the Tri-Cities from Iraq a little over a year ago. Both say their home country is also glad the Al-Quida leader is dead.
"Osama Bin Laden made a lot of problems in the world, and I think everybody is happy," says Rind Hatem.
Hatem and Hussein Yasir also attend services at The Islamic Center of Tri-Cities in West Richland. Yasir says he wants people to know that the radical Muslims are very different than the religion he practices.
"Actually the people here in America think Osama Bin Laden is Muslim. Osama Bin Laden is not Muslim , because we are, all of us here, my friends and my country, we not the same as Osama Bin Laden," says Yasir.
ICTC posted a response to the death of Bin Laden on their website. It reads:
"We at the Islamic Center of Tri-Cities join our fellow citizens in welcoming the announcement that Osama bin Laden has been neutralized as a threat to our nation and the world through the actions of American military personnel. As we have stated repeatedly since the 9/11 terror attacks, bin Laden never represented Muslims or Islam. A substantial number victims slain on 9/11 were Muslims, and he and Al Qaeda caused the deaths of countless Muslims worldwide. We also reiterate President Obama's clear statement that the United States is not at war with Islam.
We pray that the justice brought about by this event will help heal the wounded hearts of those who lost loved ones in the 9/11 attacks. We hope that this 10-year chapter has been closed, and that a new chapter based on peace and justice for all can begin."