Tri-City Americans Take 7 Players from U.S. in Bantam Draft
Posted:
Updated: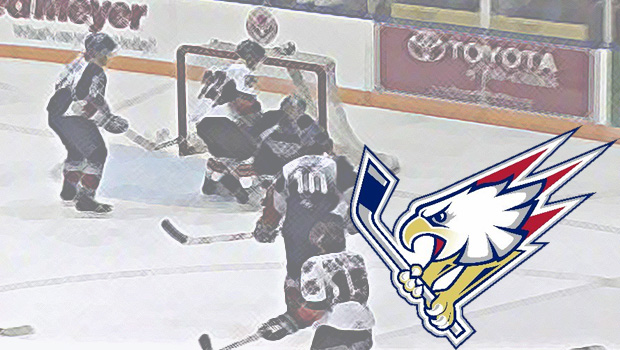 Calgary, Alberta -- The Tri-City Americans Thursday made center Brian Williams their first pick (75th overall) in the 2011 WHL Bantam Draft, held at the BMO Centre in Calgary, Alberta. After patiently waiting out the first three rounds of the draft, Americans' Governor/General Manager Bob Tory used his team's first three picks, all in the fourth round, to take Williams, defenseman Brandon Hickey and forward Tyler Mrkonjic.
Williams (4th, 75th overall), listed at 5'10 and 167 pounds, became the third member of the LA Selects Bantam AAA club to be selected by the Americans over the past two years, joining current Tri-City players Eric Comrie and Brian Williams. The San Diego, California-native led the Selects with a team-high 116 points (67-49) in 58 games and also served as the team's captain. Williams was the third U.S.-born player taken in this year's draft while Tri-City has now selected at least one U.S.-born player for a third straight year.
Hickey (4th, 81st overall), a 6'0 155 pound defenseman, was a member of the Leduc Bantam AAA Oil Kings of the Alberta Major Bantam Hockey League (AMBHL) where he amassed six goals, 18 points and 52 penalty minutes in 28 games. Hickey helped guide the Oil Kings to the Regional Finals of the AMBHL Playoffs, falling to the eventual provincial champions, Edmonton SSAC.
Mrkonjic pro Mer-con-ick (4th, 82nd overall), listed at 6'1 and 160 pounds, played on the St. Albert Bantam AAA Sabres of the AMBHL, where he finished fourth in team scoring by collecting 19 goals, 32 points and 4 penalty minutes in 33 games.
Overall, the Americans selected 11 players in this year's draft. Of those 11 players, seven were forwards and four were defensemen. Tri-City also selected a franchise-high seven players from the United States, including local Richland, Washington prospect, Austin Mayton.

The WHL Bantam Draft is the WHL's talent identification process and serves as the first opportunity for WHL teams to add players to their respective 50 player lists. Eligible players for the Bantam Draft will be 1996-born players who reside in Alberta, B.C., Manitoba, Saskatchewan, Northwest Territories, Yukon, Alaska, Arizona, California, Colorado, Hawaii, Idaho, Kansas, Minnesota, Montana, Nebraska, Nevada, New Mexico, North Dakota, Oklahoma, Oregon, South Dakota, Texas, Utah, Washington and Wyoming.
Tri-City Americans 2011 Bantam Draft Results:
(GP, G, A, PTS, PIM)
4th round (75th overall)
Brian Williams (C)
5'10 167 lbs, San Diego, CA
LA Selects Bantam AAA (58/67/49/116/68)
4th round (81st overall)
Brandon Hickey (LD)
6'0 155 lbs, Leduc, AB
Leduc Bantam AAA Oil Kings (26/6/12/18/52)
4th round (82nd overall)
Tyler Mrkonjic (F)
6'1 160 lbs, St. Albert, AB
St. Albert Bantam AAA Sabres (33/19/13/32/4)
6th round (126th overall)
Kaleb Denham (LD)
6'1 155 lbs, Innisfail, AB
Red Deer Bantam AAA Rebels White (33/2/4/6/54)
8th round (170th overall)
Jeremy Briscoe (LD)
6'4 190 lbs, Phoenix, AZ
Phoenix Jr. Coyotes U14 AAA (45/3/16/19/94)
9th round (192nd overall)
Ryan Tait (RW)
5'8 150 lbs, Santa Clarita, CA
Shattuck-Saint Mary's Bantam Tier 1 (48/39/43/82/28)
10th round (214th overall)
Brandon Carlo (RD)
6'0 156 lbs, Colorado Springs, CO
Colorado Thunderbirds U14 (77/20/29/49/36)
11th round (236th overall)
Matt Forchuk (C)
5'4 130 lbs, Okotoks, AB
Okotoks Bantam AAA Oilers (33/5/7/12/20)
12th round (258th overall)
Shane McMahan (F)
5'10 170 lbs, Irvine, CA
JSerra HS Jr. Ice Lions Bantam Tier 2 (stats unavailable)
13th round (280th overall)
Kody Ichinaga (LW)
5'3 125 lbs, Torrance, CA
LA Selects Bantam AAA (46/11/39/50/24)
14th round (302nd overall)
Austin Mayton (RW)
6'0 160 lbs, Richland, WA
Spokane Jr. Chiefs (61/31/28/59/78)