Cinco de Mayo event in Yakima kicks off Saturday
Posted:
Updated: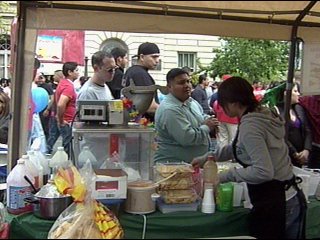 YAKIMA, Wash. -- The 10th annual Fiesta Grande in downtown Yakima kicks off Saturday.
Organizers say they're moving the two-day event from S. 3rd Street to Yakima Avenue, because the Farmers' Market, which is on S. 3rd Street each year, is also this Sunday.
Luz Bazan Gutierrez, Hispanic Chamber of Commerce board member, says they have well over 70 vendors signed-up for this year's event.
"The last two years raising funds was a little bit harder, but not this year," says Gutierrez. "We've had a lot of support. It costs us about $30,000 to have the event."
Something new this year, Gutierrez says is they'll have representatives from "LowriderMagazine.Com" on Sunday, who will be there to cover one of the largest, custom and low rider car shows in the region.
Gutierrez says the event brings in thousands of dollars into the local economy, with families staying the weekend at the downtown hotels, as well as eating at the local restaurants.
Gutierrez says it's one of the largest Cinco de Mayo events in the state, with about 10,000 people expected to attend over the weekend. With such a large crowd, organizers are working with the Yakima Police Department to cover security.
"The event itself hires five off-duty officers during the busiest and the peak hours of the event, which is between 3pm and roughly closing time on Sunday. There are officers before that too," Captain and interim chief of police Greg Copeland explained.
Capt. Copeland, who has been on the Cinco de Mayo planning committee for several years, says they've not really had any police problems, that he's noticed in the last ten years of the event, adding, "Our YPAL program has a booth at the event, so there will be police officers off and on."
The Cinco de Mayo event is open to the public. There will be food, music and entertainment, including the announcement of the Miss Cinco de Mayo winners. First place winner receives a $2,000 scholarship, second place gets a $1,500 scholarship, and the third place winner will receive a $1,000 scholarship.
Saturday's events runs from noon until about 9 p.m. and on Sunday from 10 a.m. until about 9 p.m. For a complete list of schedules and events, visit the Yakima Chamber of Commerce website at: http://www.yakimahispanicchamber.com/cincodemayo.html.