RV'ers explain life in park
Posted:
Updated: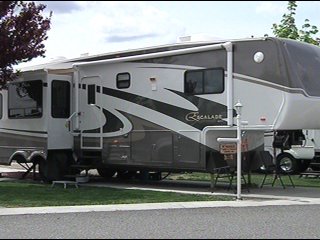 PASCO, Wash. -- Homeowners in Badger Canyon lost a fight to keep an R. V. park out of their neighborhood. Some of their concerns, heavy traffic and strange people moving into their neighborhood.
When you think of a R. V. park, what is this the first thing that comes to mind? Transients, drug users, and criminals is what some people think.
Some RVers say think again,"I'm sure there are people in these parts that you might not want for neighbors, but you wouldn't want them in your neighborhood either. So what difference does it make that they're in a RV park or a neighborhood," explains Sharon Nichols who lives in an RV with her husband.
KOA RV park in Pasco along I-182 is probably what the new park in Badger Canyon will look like. But before people park their motor homes, they're screened by owners.
"We actually have 3 pages of rules and regulation that each guest has to read and sign prior to us even allowing them to assume a RV site," explains general manager Mike Weddle.
The strict rules put in place at the park are some of the reasons why you won't find drama from some of the people living here. The park is located near a high school and homes.
Shannon Morgan, a mother of two young kids lives next to the park and barely notices it.
"No, this park actually seems very family friendly oriented. There's like horse shoe pits, there's a park in the back. I have seen nothing but nice people,"says Morgan.
People like Nichols who owns a home in Arkansas, but is with her husband because of work says people who choose this kind of life are not lowlifes.
"Our experience with people who live in RV's is they do it for a very good reason and in our case, we travel all over the country and we want to have a nice safe and secure place to stay."
Just like the proposed park in Badger Canyon, this is also a temporary site. Nichols and her husband are there for another month living in their $78,000 motor home.