Cinco De Mayo Fiesta Grande kicks off in Yakima
Posted:
Updated: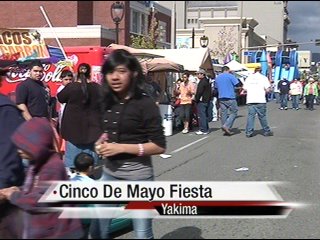 YAKIMA, Wash. - The 10th annual Fiesta Grande celebration of Cinco De Mayo kicked off Saturday in downtown with thousands enjoying food, music, and dance performances.
For the first time in the event's history, part of Yakima Ave. was closed between 1st. St. and 3rd St. to accommodate all of the vendors. In years past, the event has happened on 3rd St. itself but to make room for the Farmers Market on Sunday, the location was moved.
That change has brought in more than 75 vendors this year. Other organizations and companies asked if they could make additional space available but the Hispanic Chamber of Commerce held off on taking up any more space.
Luz Gutierrez works for the Chamber and is one of the organizers for the event. She says the format of the Fiesta Grande attracts large groups and will bring in thousands of dollars for the local economy.
"It's just not one person coming, it's usually families. This is a family event and within the Hispanic community that big. If it's family you bring everybody."
Sunday will be an even bigger showing at the celebration with both a parade and car show beginning at noon.
Gutierrez says the car show will be the largest of its kind in Washington state, one that is geared toward the Hispanic community. She says national media will be in town for th event and that is attracting many visitors from out of state.
Other festivities include the finals of the Miss Cinco De Mayo pageant and more live performances.
The first day of events was scheduled to conclude just before 9:00 p.m.