New homes for White Swan Fire Victims
Posted:
Updated: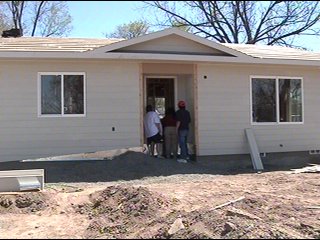 WHITE SWAN, Wash- It's been nearly three months since heavy winds spread a fire through the White Swan community destroying 20 homes and displacing hundreds of people.
The people who lost their homes had all sorts of different circumstances. Some owned the land the lived on, some had insurance, and some lived in homes owned by the Yakama Nation Housing Authority. That last group is scheduled to move into brand new houses July first.
"It's really getting exciting... I'm almost home", says Barbara Martin.
She and her sister Susan Haggerty-Avila lost their homes and all of their possessions in February's fire. But theirs are two of the four homes being rebuilt by the Yakama Nation Housing Authority. Although there's no way to erase the pain of the last three months, Barbara is almost giddy with anticipation.
"Something to smile about, I'm tired of crying, you go through something like this you look and see what's happening here you gotta smile", says Martin.
The housing authority hasn't had much time to smile though. Since the fire they've been busy with the cleanup efforts, the insurance claims, and now the reconstruction.
"It represents something significant to us. The board of commissioners mandated that this be taken underway as quickly as possible so these four homes is about a $235 thousand dollar project", says Jim Berg, executive director of the Yakama Nation Housing Authority.
Barbara and Susan come to check on the building progress almost every day. Their old homes were built about 30 years ago. So in many ways, the new houses will be upgrades.
"It's like being reborn again, starting anew", reflects Barbara.
But for Susan who's now deceased son grew up in her old home, the idea of a new house with no memories is bittersweet.
"All the marks, bumps, and bangs of kids growing up. My daughter keeps reassuring me that the boys I have now will make new ones", she said fighting off tears.