200 teachers discuss Response to Intervention
Posted:
Updated: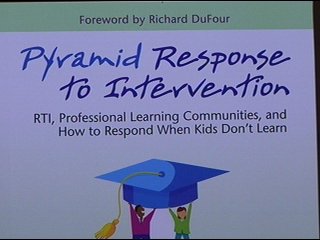 PASCO, Wash.-- On Thursday, more than 200 teachers and educators had a day of learning themselves. A nationally known author spoke to the group during ESD 123's 6th Annual May Conference at the Pasco Red Lion.
Mike Mattos, author of "Pyramid Response to Intervention," talked about Professional Learning Communities and Response to Intervention (RtI). RtI is a method of stepping in and helping students who are having trouble learning. For example, one local middle school has one period a day where students who are struggling to keep up can get help, while other students take an extra elective.
Mattos says Washington is one of four states on the cutting edge of RtI learning. Mattos explains, "Schools have to think differently on how we function. So when a kid struggles, it can't be up to a teacher doing something; The school needs to respond with all their collective knowledge and resources."
Dr. Robert Smart, Assistant Superintendent for ESD 123, says more schools in Eastern Washington are switching to the RtI method and having Mattos speak to teachers and administrators will help implement it in new schools and improve it in schools already using it. Smart says, "Where Mike comes in here is to help bring together Professional Learning Communities, small learning communities of teachers trying to figure out what's best for kids, and applying Response to Intervention systems." Smart hopes to have some form of RtI in every school within the next few years.
The conference continues Friday.