Tri-Cities Chamber of Commerce offers small business help
Posted:
Updated: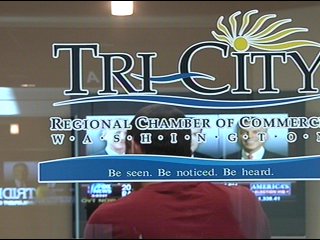 KENNEWICK, Wash. – The Tri-City Regional Chamber of Commerce is pleased to announce the official launch of its Small Business Resource Center. The Small Business Resource Center provides entrepreneurs and existing businesses with easy access to start-up information, consultation services, educational opportunities, and connections to a network of non-profit and government agency resource partners that offer business-building services to the Tri-City region.
For tailored assistance, a small business counselor is available to help answer questions and direct entrepreneurs to the resources necessary to succeed. In addition to one-to-one assistance, the Small Business Resource Center kiosk is located in the Tri-City Regional Chamber of Commerce lobby and provides free online access to helpful resources for entrepreneurs, along with brochures and information from local partners. "There are a great deal of resources available, but sometimes entrepreneurs aren't sure where to turn," says Ashley Bennington-Coronado, Director of Small Business Programs, "Even if we don't have the answer to their question, we can direct them to the appropriate organization or website."
On average, the Tri-City Regional Chamber of Commerce receives 2-3 calls daily related to assistance for a new or existing business. "Having a resource like this is a logical addition for the Chamber, "says Lori Mattson, Tri-City Regional Chamber of Commerce President and CEO, "The Small Business Resource Center is here to connect you to local organizations, programs, and people to help you succeed."
Currently the Tri-City Regional Chamber of Commerce helps small businesses by providing free government contracting assistance to area businesses with its Procurement Technical Assistance Center (PTAC). PTAC offers help with small business registrations and certifications, government marketing, locating solicitations, proposal review, and more through training workshops and one-to-one counseling sessions. In 2010, the Tri-Cities PTAC counseled over 100 area businesses and helped clients secure nearly two million dollars in government contracts. The Chamber also hosts a monthly Business Development University workshop to provide business owners and employees with deeper knowledge in a specific area of business and offers a vast array of topics throughout the year.
The Small Business Resource Center services are free and available to anyone in Benton and Franklin counties. The Tri-City Regional Chamber of Commerce is committed to cultivating small business opportunities in the region, providing jobs and strengthening our economy by helping as many small businesses as possible. The Small Business Resource Center can be reached at smallbiz@tricityregionalchamber.com or (509) 736-0510