Rising river makes homeowners stock up on sandbags
Posted:
Updated: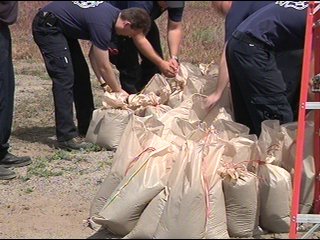 WEST RICHLAND, Wash. -- As the Yakima River is expected to rise 16 feet, homeowners living along the swollen bank are stocking up on sandbags to protect their homes.
"It would devastate it, but I'll start over, once it dries out," says John Cummings who tries to stay optimistic about the water he knows will cover his land in a matter of hours.
Since January, it has flooded three times, he's hoping sandbags he picked up today will prevent damage to his home,"Of course it's frustrating, but that's the gamble that we take and you just start over again," says Cummings.
That's the attitude you have to have when living in a flood prone area. But it's still a concern for many.
"My wife and I had a new baby, a 6 month old now, and so it's making sure that we can find a place to stay in case this does get bad. We'll have to think about those plans B, plans C type of situations," says Matthew Hartelius
The water's rising so fast that it's now starting to spill onto the land. That's why homeowners are getting sandbags and protecting their home before the water hits.
"We been starting around 10 o'clock this morning. We got sand from the city of West Richland and sand bags from the county and emergency management and we're just trying to get some pre-filled before the big rush hits us," explains Raymond Newton of Benton County Fire District 4.
The fire fighters filled 100 bags in just two hours. They've seen a steady stream of people coming to fire station 410 on Grosscup and Harrington road. John Cummings says he expects to be part of the rush to get more bags.
"I'm sure we're going to have to make another trip. We got to pick up a lot of them before we get one more load to sand bag all the doors to the building where water could easily get in," says Cummings.
Benton County firefighters ask people to call 509-967-2945 and make arrangements before going to get sand bags.