Yakima County declares state of emergency
Posted:
Updated: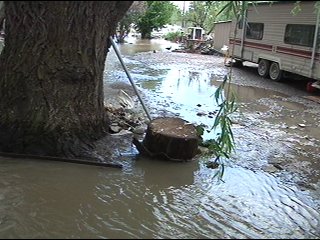 YAKIMA, Wash. -- Yakima county commissioners declared a state of emergency this week due to the flooding of the Yakima and Naches Rivers.
Since Monday, the rivers in the county have started to recede, but the impact is still visible.
Jim Hall, with the Yakima County's Office of Emergency Management, says between 50 and 75 homes have been reported being damaged.
Hall says there are three damage assessment teams going door-to-door along the Yakima and Naches Rivers. The teams include, volunteers with the Yakima Valley Chapter of the American Red Cross and Yakima County Search and Rescue volunteers.
Members with the Army Corps of Engineers have been working on the levees, doing repair work and flood fighting. The Corps worked on the Naches levee and raised it by about a foot, according to Hall.
"They've done some really fine work. And part of the reason we're not reporting a lot of damages are because of the work the Corps has done here," Hall said.
The Red Cross assisted a family in Toppenish whose homes were badly damaged in the flood. "It's kind of hard on everybody, but as long as you got people offering a place to stay and move our trailer and things like that stuff," explains Jeannette York. "I don't know, I just feel sorry for everybody who lives along the river. I know what they're going through."
York's sister Leona York and her husband Daniel, and their mother Juanita York are working with the Red Cross on a temporary shelter, until the family can move back into their homes.
Jeannette says they deal with floods every year saying, "It's not anything special, but back in '96, I know was the worst one. We don't want to see any more like that." She adds, "People wonder why we stay here, but it's home."
"There's still awful lot of snow pack in the mountains," cautions Hall. "Depending on what mother nature does now, if she turns off really warm we could see a repeat of this, potentially in the future this summer."
Hall says the county plans to send a letter later this week asking Governor Christine Gregoire for state assistance.
Anyone who has flood-related damage to their property is asked to contact the Yakima County Office of Emergency Management at (509) 574-1900.