Some Gleed homes have drinking water but that's about it
Posted:
Updated: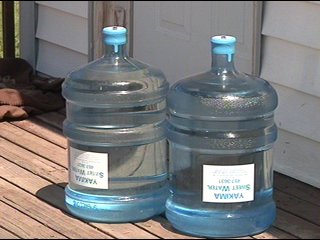 GLEED, Wash- Randi Cartmill's home didn't get any direct flood damage, in fact if you look at the lovely home there are no signs of the weekend weather but the flood has caused a financial and logistical burden to her family, and she has no idea when life will be back to normal.
"No showers, no toilets, no laundry", Randi laments. As of 5pm Tuesday her house has been out of water thanks to a system shut down triggered by the flooding. The water was actually shut off to her's and four other Gleed homes on Monday but her family had been using water leftover in their heater.
"They're bringing in bottled water for us for drinking but we get three bottles for two weeks, there's four people living here, that's not enough", she laments.
So now Randi and her family use a relative's house in Moxee to take baths, do laundry and to stock up on other water they need for around the house.
Given the distance it's an expensive as well as inconvenient substitute. It's not cheap for the city either; water delivery is costing them $2,500 a day. However Randi is just as troubled by the uncertainty.
"The first time three to four hours with no water and then we'd they knocked on the door they said 3-4 hours with no water and then we'd have water back and then that night we didn't and they showed up the next day and said we don't know", recalls Randi.
In all fairness, they probably don't know. Flooding that's likely responsible for the damaged pipe, has also made it difficult for the city's irrigation workers to find out where exactly the damage is, and fix it.
"Until the river calms down and we can see what the problem is. The river's supposed to take another rise again so it's going to be at least next week so our prediction is it could be a couple of weeks it could be three months", says Dave Brown, Irrigation Manager for the City of Yakima.
"I can see a week, two weeks, maybe at the most, but if it's going to be months, you can't let people live like that", say Randi.